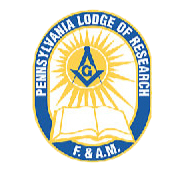 The Pennsylvania Lodge of Research is a unique occurrence in the history of the Grand Lodge of Pennsylvania, as this is the first Lodge constituted within our Jurisdiction solely for the purpose of Masonic study.
The Pennsylvania Lodge of Research holds only two Stated Meetings each year, with Special Meetings to be held at the discretion of the Worshipful Master. Meetings are held at various Masonic sites throughout the Commonwealth. No Craft Degrees are conferred. The elected Worshipful Master does not receive "the Word of the Chair," nor does he become a voting member of the Grand Lodge.
Upcoming Meeting Dates
Saturday, June 11, 2016 (Wellsboro, PA)

Saturday, December 10, 2016 (location TBA)
Information about the Craft in general is shared, and at least two research papers are presented, followed by discussion. Of course, good fellowship is also essential to the success of the Lodge of Research!
The Annual Meeting is held late in the year, at which the election and installation of officers is held. All Master Masons are welcome to attend.
Anyone, by invitation of the Master, may present. Brethren interested in submitting papers for possible presentation at future meetings of the Pennsylvania Lodge of Research, or who have Masonic queries they would like answered, should submit them to the Secretary.
Presenters are currently selected by the Master and Senior Warden. The incoming Master is expected to make a presentation of a research paper at the December meeting at which he is installed. Presenters do not have to be members of the Lodge of Research – they only must be invited to speak by the Master.
Although warranted by the Grand Lodge of Pennsylvania, this Lodge will work differently than any other Lodge within the jurisdiction. This Lodge's membership is divided into three categories: Full Member, Associate Member, and Fellow.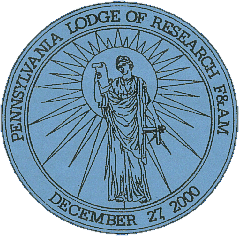 The medallion of the Pennsylvania Lodge of Research depicts a classical female allegorical figure holding a manuscript in one hand and a square and compasses in the other. The sunburst represents Enlightenment. Its symbolism is obvious in depicting the purposes of the Lodge of Research as sharing Masonic Light with others who are following a planned approach to personal character-building and self improvement, and to encourage an organized process of formal education of the Craft at large.
The regalia of the Lodge of Research include a Member's Jewel, which is worn in the suit coat breast pocket at Lodge of Research Meetings. The Charter members have a white stripe on their ribbon. It is not authorized for wearing at regular Lodge meetings.
Officers of the Lodge of Research have special aprons which they wear while in session. Burnt orange is the distinctive color authorized for use of the Lodge of Research.